Mars in Scorpio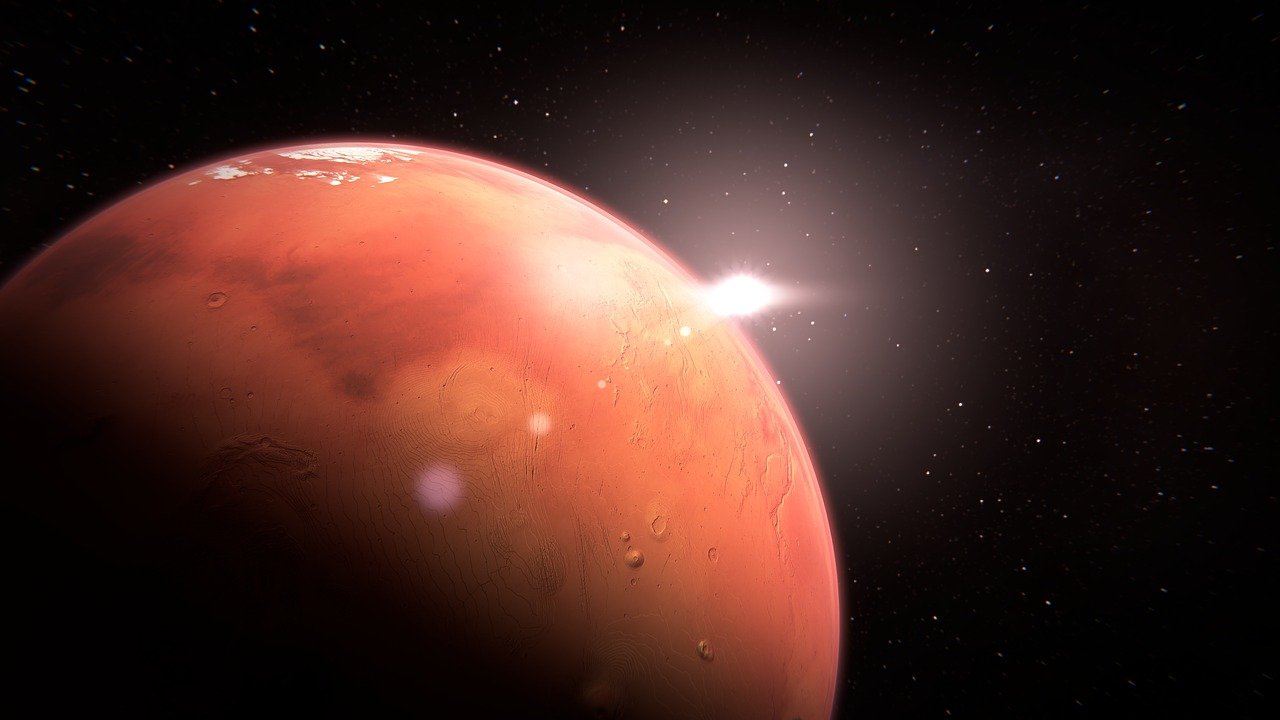 Mars enters Scorpio on December 4, 2021, about 17 hours after the Solar Eclipse. It will continue its transit there until January 16, 2022. Scorpio is the sign ruled by Mars, so when it is transiting Scorpio, Mars has a great deal of power. That power can be channeled in either positive or negative directions. Normally a transit like this one will be related to a mixture of positive and negative events.
Ketu is also in Scorpio, which is in the final leg of a transit that began on September 19, 2020, and will continue until March 16, 2022. Together in Scorpio, Mars and Ketu are formidable. Mars and Ketu both co-rule Scorpio.
On the negative side, both Mars and Ketu are planets that can produce aggression or violence. The last time they were together in Scorpio was from January 7 to February 23, 2003 during the build up to the war in Iraq. Mars symbolizes weapons. Ketu symbolizes irrational fears, veils things and makes them hard to see. During the preamble to the US invasion of Iraq there was a desperate search for the, now-infamous, "weapons of mass destruction", which, of course, didn't exist. Nevertheless, the USA persisted in its false claims and entered Iraq, guns blazing, on March 20, 2003.
On the other hand, during that period, Mars was also in an opposition to Saturn, and Saturn was in a conjunction with Rahu. That is what I call a pig-pile of challenging planets, and it's a recipe for a war. That is different from the current transit of Mars and Ketu, which is not as intense.
This time around the actors may be different, but the general themes may be similar. Irrational fears, the threat of violence, and false claims to justify military conflict are familiar players on the world political stage. Tensions between Russia and Ukraine could escalate, or new conflicts in other parts of the world could begin. This doesn't need to produce dramatic events, but it will be interesting to watch the news.
Fears about the new variant of the corona virus could also escalate during this period. Nevertheless, the overall astrological outlook remains the same. Jupiter is now in Aquarius, so I am cautiously optimistic that the world will get a grip on the pandemic situation by the end of next year.
As mentioned earlier, the solar eclipse takes place in Scorpio less than 24 hours before Mars moves into Scorpio. That means that Mars will conjunct Ketu on December 15th and then transit across the eclipse point on December 30th. These dates, and a period of about one week on either side, should be watched for challenging Mars/Ketu events in the news. Likely events would be military buildups or conflicts, terrorist events, or negative pandemic news. And since this eclipse takes place on the ascendant in President Biden's chart and on the Moon in the chart of former President Trump, there could even be an uptick of aggressive, assertive or combative events in the news related to either of them.
On the personal level, each individual will experience the Mars transit of Scorpio in his or her unique way, depending on the specific combinations of planets in their individual horoscopes.
Here is a brief description of how the transit of Mars in Scorpio might affect you, based on the house Mars is transiting in your horoscope. Remember, we use a different zodiac in Vedic astrology, so you have to look at the birth date ranges for each of the Sun signs carefully. If you happen to know your Vedic Moon sign, Lagna (Ascendant) or Arudha Lagna, then you can read the results for those signs as well. If you happen to know all of those signs, you could potentially read the predictions given for four signs. That may seem confusing, but each of the descriptions reflects a different perspective on the transit of Mars and will tend to manifest in its own way.
Apr 14 - May 14 (Aries) Negative: Mars and Ketu are in your eighth house. This period may bring changes, and it tends to produce control or power issues. You might feel like breaking rules or pushing boundaries.  Positive: This is a great time for Yoga, Tai Chi or any other type of therapeutic, energy-flow exercise. 
May 15 - Jun 14 (Taurus). Negative: Mars and Ketu are transiting your seventh house. This can bring challenges in relationships with other people. The partner, romantic or business, (or other people in general) might tend to be bossy or pushy now. Try to avoid power struggles, guilt trips, and emotional dependency. Positive: This is a good time for practicing acceptance and forgiveness in relationships. It is also a great time to do Mars/Ketu activities with a partner or a friend. Do yoga or Tai Chi together, go for a walk or a hike, or give each other a massage. Above all, use your intuition to set clear boundaries and don't let anyone push you around. This is also a good time to do a little Feng Shui on your garage. That's new age jargon for "Get rid of the junk!"
Jun 15 - Jul 15 (Gemini) During this transit, the emphasis is on your sixth house, the house of health and employment. Negative: If you have ongoing health issues, this period might bring a tendency towards occasional flare ups. The quality of Mars and Ketu is Pitta, which increases heat in the body and can produce inflammation. Mars and Ketu can also sometimes be associated with health procedures that make use of advanced technology. Positive: This is a great time for using the energy-channeling quality of the Mars/Ketu combination to improve your health through Yoga, Tai Chi, Chi Gong, energy work, long walks, hiking, biking or any other type of physical activity that gets you into a stream of consciousness.  This can also be a good time to take more initiative in your work and get more involved in ambitious projects.
Jul 16 - Aug 16 (Cancer) During this transit, Mars and Ketu are influencing your fifth house, the house of children, education, the stock market, sports, and romance. Negative: In any of these domains there is the possibility of complications or challenges.  Positive: With kids, try to be less bossy and more intuitive. Boundaries are important, but try to avoid power struggles. Similarly in romantic relationships, if you try to set good boundaries and respect the boundaries of the other person, you will have better results. If you are into sports or just like to do physical activities, this a great time for getting in the zone. In competitive sports, using visualization can improve your performance.
Aug 17 - Sep 16 (Leo) Mars and Ketu are transiting through your fourth house, the house of the home, environment, mother, and car. Negative: Your mother might be a little more bossy or complicated, there could be repairs or expenses related to the home or the car. Positive: This is a Vastu (the Vedic version of Feng Shui) transit. That makes it a perfect time to create good energy in your home. You can start by cleaning up any clutter and making the house shine. Plants, essential oils and any other mood elevating influences can also help. In any case, you might feel like creating positive changes in your environment, either your home, office, or the environment, in general. 
Sep 17 - Oct 16 (Virgo) During this transit, Mars and Ketu are passing through your third house, the house of siblings, short journeys (like errands) and communication. Negative: You might find yourself being overly pushy or bossy in the way you communicate or the way you drive your car. Interactions with siblings could be complicated. Errands and short distance travel might be more intense than usual. Positive: This is a good time for gathering information on the internet or pursuing any type of technical information or project. This influence is also good for channeling healing energy through the hands. This is also a good period for doing long walks (a type of short journey) or hikes and getting into the zone. 
Oct 17 - Nov 15 (Libra) Mars and Ketu are moving through your second house, the house of money, food, speech and family. Negative: This could be a period that produces expenses, control issues related to money, occasional harsh or overly assertive speech, problems with your diet, or complicated interactions with family members. Positive: During this period, you might have more desire or ambition to make money. This is also a good time for making constructive changes in your diet. During this period, it is important to set good boundaries, and respect the boundaries of others, with respect to money.
Nov 16 - Dec 15 (Scorpio) During this period, Mars and Ketu are transiting your first house, the house of the self, the body, and your general sense of individuality. Negative: You might tend to be a little bossy or controlling during this period. Positive: This is a good time for taking on more responsibility or taking charge, but the way to do it is to take charge without letting anyone know that you are the boss. I know that sounds like a contradiction in terms, but that's how Mars and Ketu roll. This is also a good time for yoga, body work, and exercise, but just be intuitive about it and try not to strain you muscles in the process.
Dec 16 - Jan 13 (Sagittarius) Mars and Ketu are transiting your twelfth house, the house of distant places, expenditure, introspection, and meditation. Negative: You might spend more money during this period. There could be challenges related to children. Positive: This is a great period for a retreat or getaway that involves some sort of uplifting physical activity like hiking or yoga. Or you can skip the trip and just do some hiking or yoga!
Jan 14 - Feb 12 (Capricorn) During this period, Mars and Ketu are passing through your eleventh house, the house of friends, groups, community, achievements and financial gains. Negative: You might experience complications in friendships, like a bossy friend or some sort of disharmony with a friend or a group. Positive: This is a great period for group activities that involve physical activities that get you into the zone, like yoga, skiing, hiking, and walking. This transit could also give you the desire to take charge of a project and be more productive. It might also bring financial gains. This is a good time for finishing projects as well.
Feb 13 - Mar 13 (Aquarius) Mars and Ketu are moving through your tenth house, the house of action, career, and any type of ambitious pursuit. This can include hobbies and interests outside of the work you do for a living. This is also the house of bosses, authority figures and the government. Negative: You might notice friction between you and a boss, your father, an authority figure, or government institution. Positive: You might take charge of a project at work or assert your leadership energy in some way. Since Ketu is there as well, it is a good idea to do it without being bossy or pushy. This period can make your more productive and effective in your work.
Mar 14 - Apr 13 (Pisces) During this transit, Mars and Ketu are passing through your ninth house, the house of long-distance travel, higher education, the spiritual path, wealth, teachers and the father. Negative: This could bring some friction, changes, or complications during long distance travel, or any of the previously mentioned areas. For example, you might experience disagreement or friction with a teacher or with your father (or possibly the mother in this case). Positive: There could be some financial gains. This is a great time for travel that includes physical activities like hiking, biking or yoga. This is a good period for spiritual development.
---